Register your 7-to-15-year-old for the fall session of Allergy Pals/Allies mentorship program. If you're in New Brunswick, register for the 2022 Sweet Caroline Run which is taking place in-person this year. Sign up for a small group webinar on managing food allergy and anaphylaxis and connect with others who can relate. Discover the upcoming support group meeting in Niagara and connect with our other support groups virtually. Plus, check out our encore series featuring our recent recorded sessions on oral food challenges, and transitioning into new environments with food allergy.
---
Last call to register for Allergy Pals/Allies fall session – program begins in one week!
Registration is closing soon for the next session of the Allergy Pals/Allies online peer mentorship program. This free 8-week program is open to youth ages 7-15 with food allergy and will be taking place from September 23rd to November 12th, 2022.
By participating in the program, kids will:
Build a support network by connecting with other children who have food allergy
Learn strategies for managing their food allergy
Feel more confident managing their food allergy
Watch the video below for an overview of the program and its many benefits! Plus, read below to see how the program has impacted Makayla's life. Make sure to register your child before September 23rd, so they don't miss out.
---
October 8th in Rothesay, New Brunswick: Sweet Caroline Run 2022
Join the Sweet Caroline Foundation for their Sweet Caroline Run taking place October 8th at 10am ADT at Rothesay High School.
This run/walk is to honour the memory of Caroline Lorette who passed away at the age of 14 from an allergic reaction to dairy. There is of no better way to celebrate Caroline's life than by coming together in community and sport.
For more information and to register, click here.
---
Small group webinar (maximum 6 participants): Managing food allergy and anaphylaxis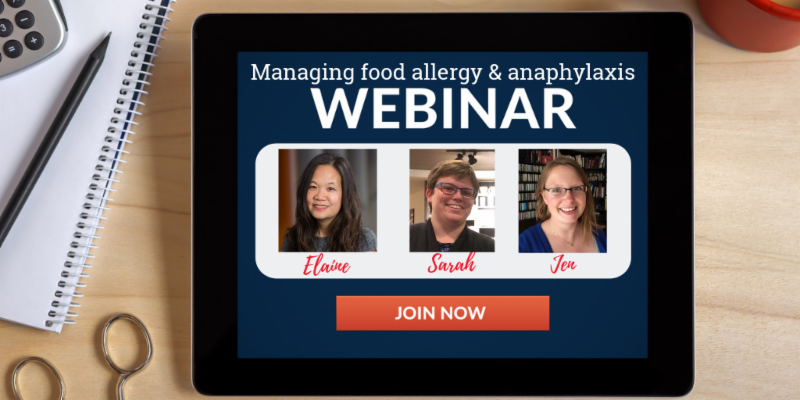 Do you care for a child with food allergy? Attend one of our free 90-minute interactive small group webinars led by a trained parent mentor. You'll learn fundamental information about daily management and living confidently with food allergy and anaphylaxis, while connecting with others who can relate.
These sessions are geared towards parents of children who have been recently diagnosed with a food allergy. It's also a great session for others who are interested in this topic, or would like a refresher.
Following the session, you'll be able to answer:
What are food allergy and anaphylaxis
How to avoid a reaction
What are the signs and symptoms of anaphylaxis
What to do in an emergency
Sessions are limited to 6 attendees and fill up quickly, so register now to save your spot. Our next sessions are Saturday, September 17th and Wednesday, September 21st.
If you have already attended one of these webinars, please help us spread the word so others can also benefit. Please share!
---
Learn about our support groups across Canada and connect virtually!
Support groups provide a warm and caring environment for you to get help in dealing with the day-to-day stress of being at risk of anaphylaxis or having a child who is at risk. Plus, you can keep updated on any new developments in the food allergy community, and exchange tips for navigating food allergy during the school year.
Upcoming meeting in Niagara:
Niagara Food Allergy Parents Support Group will be hosting a fall virtual meet-up on September 30th at 7:30pm, and a bowling social for families (date TBD). Stay tuned for additional details by joining the group's Facebook page.
Find a support group near you and connect online! If there isn't one in your community, we'll help you get one started.
---
Encore series: Back-to-school webinars for parents
In this series, we feature past online events and webinars. This month, watch our recent webinars which are part of our back-to-school campaign, including sessions on the role of oral food challenges with Dr. Edmond Chan, and a Q&A session with youth in our community on transitioning into new environments.
Watch the videos below and please share with others, so they can also benefit from the essential information included.
Oral food challenges: What they are and how you can gain insight into your food allergy
Hear from Dr. Edmond Chan about the role of oral food challenges (OFCs) and what they can tell you. You'll learn who is the best candidate for an OFC, what they involve, what to ask your allergist when considering one, and more.
For parents: Ask your questions live!
Hear from youth in our community as they discuss their experiences managing food allergy in and out of school, and how they manage transitions into new environments. Topics include eating in schools, how to get teachers and peers to be supportive, how anaphylaxis has been handled at school, along with managing social situations, bullying, and more.
---
Tags: Allergy Pals, Back-To-School, encore series, Online mentorship, Small group webinars, support group meeting, Support groups, Sweet Caroline Run, webinars, webinars and events