Food allergy affects over 2.6 million Canadians, including almost 500,000 children. Researchers are committed to better understanding how to prevent, diagnose, treat, and eventually, cure this medical condition. Learn how you can participate in research studies.
Participate in research
Participate in a survey on chocolate consumption and food allergy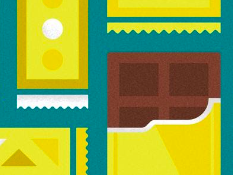 Laval University in Quebec is conducting research around the use of precautionary allergen labelling (e.g. "may contain" statements) on certain chocolate products in Canada, and the related consumption habits of consumers with food allergy. As part of this research, they have put together a short 5-minute survey.
Your participation in this research will help us advance the dialogue on precautionary allergen labelling in Canada with government, the food industry, and other key stakeholders.
Eligibility
You are eligible to participate if you have peanut, tree nut, egg and/or milk allergy, or have children with one of these specific food allergies.
Participate
The survey will take about 5 minutes to complete and closes on June 7, 2020. You will not be required to share any personal information. All responses will remain anonymous.
Thanks in advance for your participation!
Call for participants: Food allergy IMPACT psychosocial study
If you are a parent of a child with food allergy, you are invited to participate in a study that will allow researchers to better understand the parental experience of having a child/children with food allergy.
Led by Drs. Edmond Chan and Sharon To, researchers from the Division of Allergy and Immunology at The University of British Columbia in Vancouver, Canada, are currently working on developing a patient evaluation tool. This tool will assist healthcare providers to more effectively evaluate their patient's anxiety related to food allergy and identify when more psychosocial support for dealing with stress and anxiety may be beneficial. The researchers would also like to learn more about the impact of the COVID-19 pandemic to families with a child(ren) with food allergy.
Your input in this research is critical to providing a robust and patient-centric tool that will help families who need support.
How to participate
Complete a short, secure, online survey about your thoughts, feelings, and behaviours related to parenting a child/children with food allergy in the past week and in a typical week prior to COVID-19. It takes approximately 15 minutes to complete.
Even if you do not feel anxious about your child's food allergy, your input is extremely important to this study. The researchers would like to hear from as many parents as possible.
Eligibility
To be eligible to participate in this study, your child must have received a food allergy diagnosis from an allergist, family doctor, or pediatrician, and you must live in Canada. Please contact your child's physician if you have questions about their food allergy.
Participation in this study is entirely voluntary. You may refuse to participate or you may discontinue your participation at any time without explanation. All information obtained during this study will be kept strictly confidential. The research data will be available only to the research team. This study has been approved by the University of British Columbia – Children's & Women's Research Ethics Board.
Chance to win a gift card
Once you have completed this survey, you will have the option to be entered into a draw to win a $100 Visa gift card by providing your email address.
Your email address will remain confidential and will not be linked to your survey responses. It will only be used to notify you if you are the winner of the gift card. ​
Take the survey
Click on this link to start the survey:
The study will be open until June 8, 2020.
Questions
If you have any questions about this study, please contact Dr. Sharon To, study coordinator, at allergyresearch@bcchr.ca.
Your participation in the study is vital to providing the researchers, and patient organizations like ours, with insightful results on how to improve the psychosocial supports for the food allergy community.
Individuals and families impacted by food allergy: Study on costs of living during the COVID-19 pandemic
Have your say! Participate in a research study about food allergy and the impacts of the COVID-19 pandemic. See below for more details from the research team.
Your input is critical in helping us and the researchers understand the impacts of COVID-19 during the first wave. The results of this study will help inform strategies and policies for managing food allergy in advance for potential future waves of this pandemic. Help to ensure we gain meaningful insight, participate and share with others.
Take the survey: Closes on June 30, 2020
Additional details on the study
The COVID-19 pandemic has resulted in job losses for many, and challenges accessing grocery stores and occasionally limited product availability due to hoarding behaviours. It remains unclear if families living with food allergy are more impacted by these losses, challenges and limited availability than families who do not live with food allergy.
A group of Canadian food allergy researchers, led by Dr J Protudjer, at the University of Manitoba, want to better understand how families' food choices and costs are impacted by the COVID-19 pandemic. We also need the input of families without food allergy, so we can compare the results.
We hope you will take about 20-30 minutes to answer a few questions. Risks associated with the study include being asked sensitive questions. There are no direct benefits to you for answering these questions.
How to participate
This study is open to Canadian families and individuals impacted by food allergy, who can confidently respond to questions. You can complete this survey in English or French.
You must be at least 18 years old to complete this survey.
You are not eligible to participate if your household member with food allergy(ies) also has other conditions that impact their diet (i.e. diabetes, eating disorders). 
What we will do with the information
We will pool, then analyse all of the data from this study. We will share these results with decision makers (such as the government and food companies), so we can better understand current issues, and plan for future events when food costs and supply might be similarly impacted.
What if I have questions?
Please contact Dr J Protudjer at Jennifer.Protudjer@umanitoba.ca.
Emerging Allergen Reporting Tool
If your child has had a reaction in the last 12 months to a food other than a priority allergen, participate in an important research survey. Your participation will help researchers, and advocacy groups like ours, better understand emerging allergens.
---
Visit ClinicalTrials.gov to see other open calls for participation in various food allergy research being conducted across Canada.
---
Keep updated on the latest research news in our news section