Are you nuts about tree nuts? Register for our upcoming webinar on tree nuts with Dr. Douglas Mack. Sign up for a small group webinar on managing food allergy and anaphylaxis and connect with others who can relate. Discover our support groups across Canada and connect virtually. Plus, watch our managing confidently safely encore series.
---
December 8th at 12pm-1pm EST: Webinar: Going nuts about tree nuts: Learn what's changed in tree nut allergy
There is a greater understanding of tree nut allergy now than ever before, and this has implications for the way the allergy is managed. Learn from Canadian allergist Dr. Douglas Mack on how tree nut allergy management has changed and what it may mean for affected individuals, like the ability to eat certain tree nuts. This session is just in time for the holidays, when there may be many seasonal bowls of mixed nuts at parties and other gatherings.
What the webinar is about: Current thinking about tree nut allergy management, allergy to a particular nut(s) versus all nuts, and considerations when you have tree nut allergy or care for someone who does. Plus, find out how well you can identify one nut from another as part of a show and tell.
Don't miss out! Register now and share with others who may benefit from the session.
---
Small group webinar (maximum 6 participants): Managing food allergy and anaphylaxis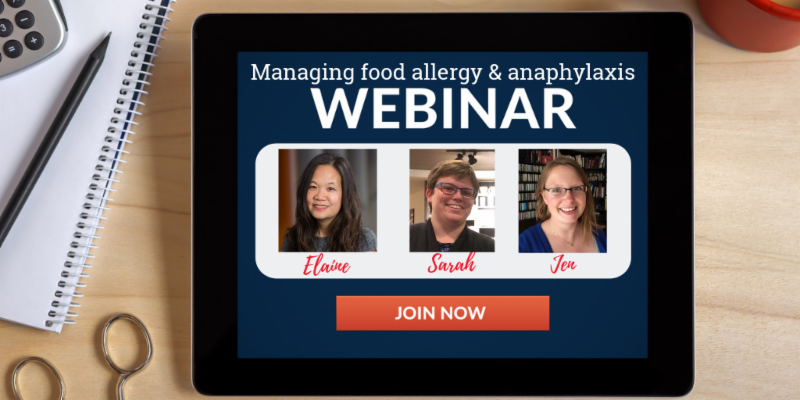 Do you care for a child with food allergy? Do you have questions about daily living with food allergy, things like how to manage going to school or daycare, dinner, the movies or playdates?
Attend one of our free 90-minute interactive small group webinars led by a trained parent mentor. You'll learn fundamental information about daily management and living confidently with food allergy and risk of anaphylaxis, while connecting with others in our community who can relate!
These sessions are geared towards parents of children who have been recently diagnosed with a food allergy. It's also a great session for others who are interested in this topic, or would like a refresher.
Following the session, you'll be able to answer:
What are food allergy and anaphylaxis
How to avoid a reaction
What are the signs and symptoms of anaphylaxis
What to do in an emergency
Sessions are limited to 6 attendees and fill up quickly, so register now to save your spot. Our next sessions are Saturday, November 5th (tomorrow!) and Wednesday, November 16th.
If you have already attended one of these webinars, please help us spread the word so others can also benefit. Please share!
---
Learn about our support groups across Canada and connect virtually!
Support groups provide a warm and caring environment for you to get help in dealing with the day-to-day stress of being at risk of anaphylaxis or having a child who is at risk. Plus, you can keep updated on any new developments in the food allergy community and exchange tips with others.
Find a support group near you and connect online! If there isn't one in your community, we'll help you get one started.
---
Encore presentation series: Know it. Treat it.
In this series, we feature past online events and webinars. This month, watch our Know it. Treat it. series on managing anaphylaxis. View the videos below and please share with others so everyone is allergy aware.
Epinephrine first and the role of Benadryl® in anaphylaxis
Hear from Dr. Wade Watson on why epinephrine is the first-line treatment for anaphylaxis, and what role, if any, antihistamines have during a reaction. Plus, you'll build your confidence in learning how to recognize anaphylaxis and what to do in case you or someone you know experiences it.
Facebook Live for families: Using epinephrine auto-injectors for treating anaphylaxis and teaching children to use them
Hear from Dr. Julia Upton on how to use the different auto-injectors in Canada, including EpiPen®, ALLERJECT® and Emerade™, for treating anaphylaxis. You'll gain a better understanding of the signs and symptoms of anaphylaxis, the administration techniques of each device, and how to teach children to use them. This session is also available to watch in French with Dr. Philippe Bégin.
Real allergic reaction stories from youth
In this video, you'll learn how to recognize the signs and symptoms of anaphylaxis, the importance of using your epinephrine auto-injector, and hear empowering reaction stories from youth and their lessons learned.
Anaphylaxis 101 video – Understand the basics
With this two-minute video you'll learn about anaphylaxis, including causes, symptoms, and treatment.
Tags: encore series, Small group webinars, Support groups, webinars