Sign up for our upcoming small group webinars on managing food allergy and anaphylaxis. Connect with our support groups across Canada and register for the Metro Vancouver Anaphylaxis Group's virtual meeting happening this month. Plus, watch our #KnowItTreatIt encore series to refresh your knowledge on how to recognize and treat anaphylaxis.
---
Small group webinar (maximum 6 participants): Managing food allergy and anaphylaxis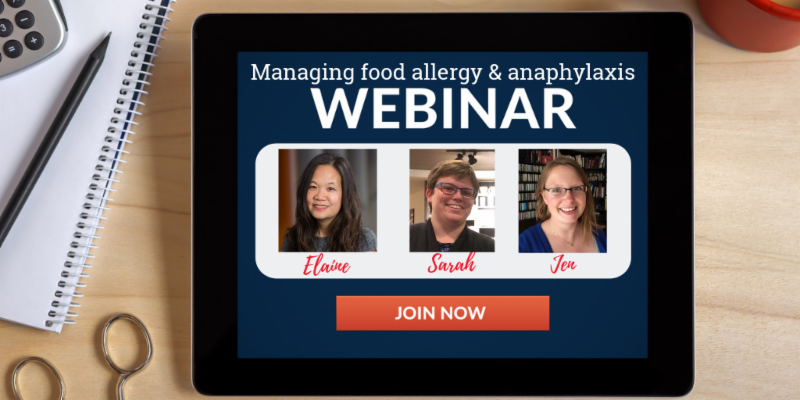 Has your child been recently diagnosed with food allergy? Looking for others who can relate? Participate in one of our free 90-minute interactive webinars led by a trained parent mentor. You'll learn fundamental information about daily management and living confidently with food allergy.
These sessions are geared towards parents of children who have been recently diagnosed with a food allergy or for families who would like a refresher.
Following the session, you'll be able to answer:
What is food allergy and how to manage it well
How to avoid reactions
What is anaphylaxis, what are the signs and symptoms
What to do in an emergency
Sessions are limited to 6 attendees and fill up quickly, so register now to save your spot. Our next sessions are Saturday, February 5th (tomorrow!) and Wednesday, February 16th.
If you have already attended one of these webinars, please help us spread the word so others can also benefit. Please share!
---
Learn about our support groups across Canada and connect virtually!
Support groups provide valuable information on how other families are successfully living with food allergy. Plus, they are an excellent way to stay updated on any new developments in the food allergy community, connect with others near you, and exchange tips on managing food allergy during this time. Check out the support group meeting happening this month!
British Columbia
Event: Virtual Ask the Allergist with Dr. Stephanie Erdle, pediatric allergist at BC Children's Hospital
Date: Tuesday, February 8, 2022 from 7:00pm to 8:30pm PST
Location: Zoom videoconferencing
Register: Please send an email to elaine.allergies@gmail.com, including your first and last name, location in BC (city), and whether you have allergies or you look after someone with allergies.
Please note: The MVAG will prioritize questions asked in advance, so please include any questions you'd like Dr. Erdle to answer in your email. Questions answered will depend on the number received. Dr. Erdle will not be able to answer specific questions pertaining to you/your child's diagnosis or treatment.
Visit our support group page to connect with one of our other groups. Most of our support groups are connecting virtually through social media during this time. If there isn't one in your community, we'll help you get one started.
---
Encore presentation series: #KnowItTreatIt webinar series
In this series, we feature past online events and webinars. This month watch our #KnowItTreatIt series. Get educated on how to recognize and treat anaphylaxis, and the importance of using epinephrine at the first sign of anaphylaxis. Watch the videos below and please share with others, so they can also benefit from this important information.
Learn from Dr. Wade Watson on why epinephrine is the first-line treatment for anaphylaxis, and what role, if any, antihistamines have during a reaction.
Learn from Dr. Julia Upton on how to use the different epinephrine auto-injectors in Canada, including EpiPen®, ALLERJECT® and Emerade™, and how these devices are used to treat anaphylaxis.
Learn how to recognize the signs and symptoms of anaphylaxis, the importance of using your epinephrine auto-injector, and hear empowering reaction stories from youth and their lessons learned.
Hear first-hand from Canadians across the country about their anaphylaxis stories and learn from their experiences. Check out our #KnowItTreatIt campaign to get involved and join the #KnowItTreatIt conversation.

Tags: Know it. Treat it., Small group webinars, support group meeting, Support groups, webinars, webinars and events