Check out and register for our upcoming webinars, including a session where you can ask youth your questions on managing food allergy, and a session on the role of oral food challenges in managing your food allergy with allergist Dr. Edmond Chan. Sign up your 7-to-15-year-old for the fall session of Allergy Pals/Allies online mentorship. Register for a small group webinar on managing food allergy and anaphylaxis and connect with others who can relate. Discover our support groups and connect with one virtually. Plus, check out our encore presentation series to help you be prepared and confident for back-to-school.
---
Next week! For parents: Ask your questions live!
Parents, join us for a webinar on August 19th from 12pm-1pm EDT and get the inside scoop on how youth manage food allergy. Ask your questions directly with our youth panel who will be sharing their experiences managing food allergy in and out of school, and how they manage transitions into new and different environments.
The panel consists of high school and post-secondary school students with different allergies who can also speak about their experiences managing in elementary and middle schools. This webinar is geared toward parents, however youth are also welcome to attend.
Don't miss out on this exclusive opportunity, register now!
---
August 24th from 12pm EDT: Webinar on oral food challenges: What they are and how you can gain insight into your food allergy
Are you wondering if an oral food allergy challenge (OFC) is suitable for you/your child? Looking to learn more about this diagnostic tool and what it involves? Wondering what to ask your allergist when considering one?
Learn the answers to these questions and more in our August 24th webinar with Canadian Pediatric Allergist Dr. Edmond Chan. You can also submit your questions in advance upon registration.
Don't miss this informative session! Register now, and please share with others who may benefit.
---
For kids: Allergy Pals/Allies online mentorship program – begins September 23rd!
Registration is now open for the fall session of Allergy Pals/Allies online mentorship program for kids ages 7-15. The free, 8-week online session will run from September 23 to November 12, 2022.
These online sessions are fun, engaging and have received outstanding feedback from previous participants. Learn more about the benefits of this program in the videos below and register your child. Spots fill up quickly, so be sure to register early.
Get an overview of the program – learn how the program works, the program expectations, time commitment and other information:
Learn how this program impacted 11-year-old Benjamin's life and what he's learned about living with food allergy:
---
Small group webinar (maximum 6 participants): Managing food allergy and anaphylaxis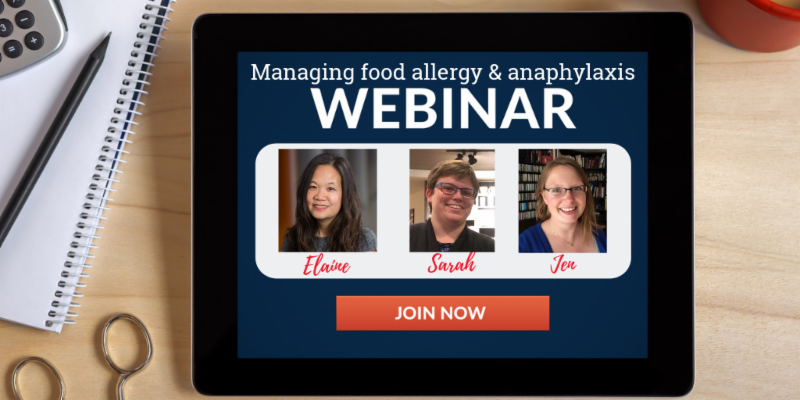 Is your child newly diagnosed with food allergy? Attend one of our free 90-minute interactive small group webinars led by a trained parent mentor. You'll learn fundamental information about daily management and living confidently with food allergy and anaphylaxis, while connecting with others in our community who can relate!
These sessions are geared to parents of children who have been recently diagnosed with food allergy. It's also a great session for others who are interested in this topic or would like a refresher.
Following the session, you'll be able to answer:
What is food allergy and how to manage it
How to avoid reactions
What is anaphylaxis, including the signs and symptoms
What to do in an emergency
Sessions are limited to 6 attendees and fill up quickly, so register now to save your spot. Our next sessions are Wednesday, August 17th and Wednesday, August 31st.
If you have already attended one of these webinars, please help us spread the word so others can also benefit. Please share!
---
Learn about our support groups across Canada and connect virtually!
Support groups provide a warm and caring environment for you to get help in dealing with the day-to-day stress of being at risk of anaphylaxis or having a child who is at risk. Plus, it's a great way to keep updated on any new developments in the food allergy community, and exchange tips on preparing for the new school year.
Find a support group near you and connect online! If there isn't one in your community, we'll help you get one started.
---
Encore series: Be prepared and confident for back-to-school
In this series, we feature past online events and webinars.
This month, check out our series to help you and your kids get prepared for the new school year. You'll refresh your knowledge on how to use the different epinephrine auto-injectors, increase your confidence on recognizing and treating anaphylaxis, learn how to prepare for your upcoming allergist appointment, and more.
Watch the videos below and please share with others, so they can also benefit from the essential information included.
Facebook Live for families: Using epinephrine auto-injectors for treating anaphylaxis and teaching children to use them
Hear from Dr. Julia Upton on how to use the different auto-injectors in Canada, including EpiPen®, ALLERJECT® and Emerade™, for treating anaphylaxis. You'll gain a better understanding of the signs and symptoms of anaphylaxis, the administration techniques of each device, and how to teach children to use them. This session is also available to watch in French with Dr. Philippe Bégin.
Plus, refresh your knowledge on how to treat anaphylaxis. Download our 5 emergency steps and share with family, friends, teachers, coaches, and others who care for individuals with food allergy.
Webinar for youth: What's it like to go to middle school and high school with food allergy
Hear from Kyle Dine and members of our Youth Advisory Panel (YAP) on how to manage the transition to middle school and high school with food allergy.
Topics covered include how to talk about food allergy with peers and teachers, dealing with unwanted teasing or bullying, how to stay safe during snack/lunch times and the importance of carrying an epinephrine auto-injector and knowing how to treat reactions.
Real allergic reaction stories from youth
Learn how to recognize the signs and symptoms of anaphylaxis, the importance of using your epinephrine auto-injector, and hear empowering reaction stories from youth and their lessons learned.
Preparing for your allergist appointment
Watch this video to help you prepare for your annual allergist appointment. You'll learn 12 simple tips for making the most of your visit. Even though this video is geared toward visiting an allergist for the first time, it's still quite helpful for preparing for annual visits.
Tags: allergy allies, Allergy Pals, encore series, Online mentorship, Small group webinars, Support groups, webinars and events