Sign up for a small group webinar on managing food allergy and anaphylaxis and connect with others who can relate. Discover our support groups across Canada and connect virtually. Buy tickets to attend the first ever "Free to Be Me" Food Allergy Wellness Retreat in Toronto, Ontario next year.
---
Small group webinar (maximum 6 participants): Managing food allergy and anaphylaxis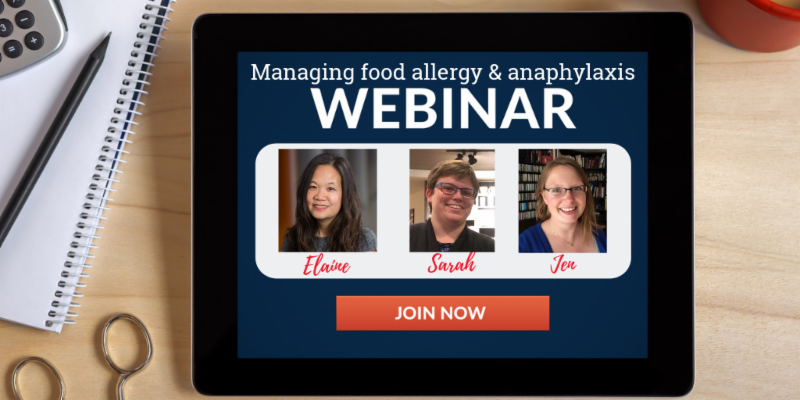 Do you care for a child with food allergy? Attend one of our free 90-minute interactive small group webinars led by a trained parent mentor. You'll learn fundamental information about daily management and living confidently with food allergy and anaphylaxis, while connecting with others in our community who can relate!
These sessions are geared towards parents of children who have been recently diagnosed with a food allergy. It's also a great session for others who are interested in this topic, or would like a refresher.
Following the session, you'll be able to answer:
What are food allergy and anaphylaxis
How to avoid a reaction
What are the signs and symptoms of anaphylaxis
What to do in an emergency
Sessions are limited to 6 attendees and fill up quickly, so register now to save your spot for our last session of this year – Wednesday, December 14th.
If you have already attended one of these webinars, please help us spread the word so others can also benefit. Please share!
---
---
Learn about our support groups across Canada!
Support groups provide a warm and caring environment for you to get help in dealing with the day-to-day stress of being at risk of anaphylaxis or having a child who is at risk. Plus, you can keep updated on any new developments in the food allergy community and exchange tips with others.
Find a support group near you and connect online! If there isn't one in your community, we'll help you get one started.
---
---
"Free To Be Me" Food Allergy Wellness Retreat 2023
Join blogger and cookbook author Amanda Orlando for the inaugural "Free to Be Me" Food Allergy Wellness Retreat that she is organizing. The focus of this retreat is self-acceptance and thriving with food allergy.
The retreat includes a series of workshops, speakers, and a panel discussion. Plus, there are separate streams of programming for parents and teens or young adults. You'll also have an opportunity to hear from our executive director, Jennifer, who will lead a lunch and learn session.
The event will be on Friday, April 14 and Saturday, April 15, 2023 in Toronto, Ontario. Tickets are now on sale and Food Allergy Canada members have access to extended early bird pricing through to December 31, 2022 with the code FAC12. Read on for more details about the event.
Message from Amanda Orlando, the organizer
Wellness retreat meets food allergy life! Imagine a wellness retreat where everyone in the room just gets it about allergies; that's a powerful feeling.
The first ever "Free To Be Me" Food Allergy Retreat is a wellness experience thoughtfully curated for those with allergies and eczema; an event that is relevant to us and the needs of our community. The goal of the organizer is for every guest to leave the retreat feeling seen, heard, validated, and connected. Living with food allergies and eczema can come with mixed emotions, from anxiety and fear, uncertainty, and even grieving the lifestyle you thought you'd have. The focus of the retreat is self acceptance, and how to thrive. We can live our best lives with food allergies and eczema! Get all the details at freetobeme.ca.
---
Tags: Amanda Orlando, Free To Be Me event, Newly diagnosed, Small group webinars, Support groups, webinar